Stories about 'Abdu'l-Bahá
"… music or an ordinary pleasing voice … has an effect upon the spirit."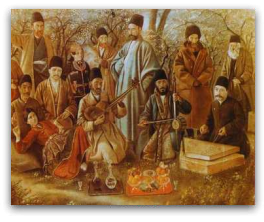 Because some of the people who met 'Abdu'l-Bahá today were musicians, He gave an explanation of the science of music:
Music is produced by vibrations of air which affect the tympanum of the ear. Although music or an ordinary pleasing voice is of the physical realm, yet it has an effect upon the spirit. In the same manner, freshness and purity of the air, the atmosphere, the scenery and sweet fragrances impart joy, spirituality and comfort to the heart. Even though these are physical phenomena they have a great spiritual influence.
He then narrated stories of the great masters of music, gave an account of the famous Rudaki and read his famous poem which had caused Amir Nasir Samani to change his course from Herat to Bokhara:
The Juy-i-Muliyan we call to mind
We long for those dear friends long left behind.
The sands of Oxus, toilsome though they be,
Beneath my feet were soft as silk to me.
The Master ended His explanations with beautiful songs and these verses:
From whence comes this minstrel
Who sings the name of my Beloved,
That I lay down this life and soul
For a message from my Loved One?

To hear the message from the City of the Beloved
Resuscitates the heart.
The soul dances
On hearing the Word of the Beloved.