Stories about 'Abdu'l-Bahá
The Master's daily routine activities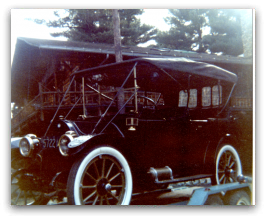 At each dawn, after offering prayers of gratitude, the Master calls His servants and serves us tea with His own hands. Using stories and narratives, He explains issues relating to the blessings of God and expresses gratitude for His divine confirmations. Later the friends arrive to experience the bounty of being with Him and to give praise. Whenever a group assembles, the Master comes downstairs to speak to them about great and lofty matters.
Before both lunch and dinner the Master takes a walk or goes for a ride. Mrs. Goodall, Mrs. Cooper and Mr. and Mrs. Ralston send two automobiles every day for His use. Whenever He goes out, the friends watch Him from the doors and windows of their houses. Even among the seekers there is much excitement.
'Abdu'l-Bahá is reverently received at the churches by the clergymen. Each respectfully accompanies Him to the pulpit and introduces Him to their congregations with glowing praise. They speak of Him as the Prophet of the East, the messenger of peace and tranquillity and attest to His great station and the importance of the teachings. Following His addresses at the meetings, crowds of people continually surround Him, begging for blessings and confirmations. When He returns to His home afterwards He offers praise and gratitude for the confirmations of the Abha Beauty.