Stories about 'Abdu'l-Bahá
Mahmud: May 18 — Clergy Invites 'Abdu'l-Bahá to Speak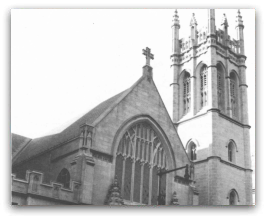 Among those visiting 'Abdu'l-Bahá were some New York clergymen. One of them, Dr John H. Randall, while the Master and His retinue had been absent, had spoken to his congregation about the life and teachings of 'Abdu'l-Bahá. He expressed the hope that he would follow in the footsteps of the Master. So effective was his talk that many of his listeners burst into tears. He came with great humility to ask 'Abdu'l-Bahá to deliver an address in his church. 'Abdu'l-Bahá replied that since He had been invited to speak that week at several gatherings in Boston, He was not able to accept the invitation until after He returned.
This morning 'Abdu'l-Bahá spoke to the people in the Church of the Divine Paternity. The minister of the church, Dr [Frank Oliver] Hall, spoke at length on the manifestation of the Báb and Bahá'u'lláh, giving a detailed account of the appointed successor and the Covenant of God. He explained that the meaning of the name of 'Abdu'l-Bahá was that He was under the canopy of the Cause of Bahá'u'lláh and concluded by saying that this Cause is the same reality that underlies all the religions of God and will become the cause of brotherhood, concord and universal peace.
The beloved Master stood and delivered an address about the unity of religions and the teachings of the new Manifestation in such a way that all were attracted to the divine fragrances. After His talk the audience pleaded with Him to allow them to line up on one side of the podium in order to shake His hand and then leave from the other side. Although they were permitted to do this, there was still such a crowd around the Master's carriage that it was difficult to proceed.