Stories about 'Abdu'l-Bahá
Mahmud: June 27 – Utterly dependent on and grateful to Bahá'u'lláh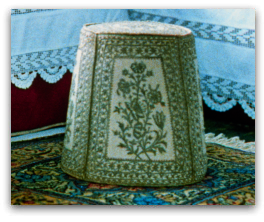 'Abdu'l-Bahá returned to Montclair today and was in the best of health and happiness. He was engaged all morning explaining religion, dispensing the glad tidings of the Most Great Manifestation and expounding on the veils that envelop the people. Group after group came to Him, and each left with the utmost devotion and humility.
In the afternoon, at the request of Mr. Edsall and other friends, 'Abdu'l-Bahá went to the park to rest for awhile. He said, as He left the tram at the entrance of the park, 'What great changes have occurred! What waves have swept over us and brought us here! Let us see what waves are still to come.'
A gazebo was set on a small rise in the center of the park. There the Master sat on a bench, inviting Mr. Edsall, his son-in-law and us to sit near Him. He stated, 'The Committee of Union and Progress in Constantinople is very good but both internal and external enemies are laying plans to imprison me again on my return to the Holy Land.' When we said that it might have been better had He remained in Egypt, He replied:
My beginning and my end, the place from which I start and the place to which I return is the Holy Threshold. What I have is from that Threshold and to it I shall return. Had it not been for His aid and assistance, would these people sitting on your right and left have any concern about you and me? We must be just and speak the truth. Who are we that we should be showered with these favors? Compare the position of Persia with that of America.