Stories about 'Abdu'l-Bahá
Mahmud: June 24 – About one's physical and spiritual health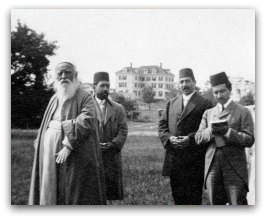 When asked about His health at a gathering of the friends, He replied:
Bodily health is not important. What is more important is spiritual health which gives eternal pleasure and has everlasting effect. The more the body is cared for, the worse it becomes. Thus denial is preferable for the body. I took only a cup of milk today and I feel much better. Why should man undergo so much trouble and hardship merely for the purpose of eating?
In the afternoon He gave detailed answers to questions relating to His talks at Green Acre. He then spoke on the blind imitations and prejudices of people.