Stories about 'Abdu'l-Bahá
Mahmud: June 22 –False beliefs and malicious calumnies of the followers of Yahya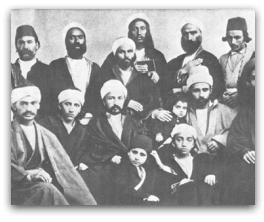 In the morning 'Abdu'l-Bahá spoke about the followers of Yahya, saying:
These people are following their false imaginings. They say that the letter from the Báb to Yahya begins thus: 'From God, the Mighty, the Beloved, to God, the Mighty, the Beloved.' But this passage is also written at the beginning of the letter to Dayyan and to others. In Tablets revealed by the Blessed Beauty there are also many such passages. The intent is an address from the Manifestation to Himself. What does this have to do with Yahya? In a Tablet from the Báb to Yahya and written in Yahya's own handwriting, he is directed by the Báb to ascertain God's intention by asking Siyyid Husayn, the amanuensis.
The Master then gave various accounts of their vain imaginings and the mischief they caused in both the spiritual and material affairs of Persia. He also spoke about their malicious calumnies against the sincere and trustworthy Bahá'ís of the East and the West. He ended His talk with an exposition on the erroneous notion prevailing among some religious leaders that science is opposed to religion, a belief that leads people to false dogmas and to adhere to vain imaginings.