Stories about 'Abdu'l-Bahá
Mahmud: June 15 – witnessing the great respect 'Abdu'l-Bahá received from a pastor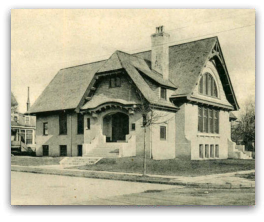 'Abdu'l-Bahá had been invited to two large churches in Brooklyn and left New York at 10:00 a.m. Some of the Persian and American friends accompanied Him. At 11:00 a.m. the Unitarian Church was graced with His presence. As the carriage approached, we saw outside the church an announcement in large letters saying 'The Great Persian Prophet, His Holiness 'Abdu'l-Bahá, will speak at 11:00 a.m. in this church on the 15th [sic] of June.' What created in us such a sense of wonder was that the pastor of the church had placed the sign announcing the prophethood of 'Abdu'l-Bahá on the door of his church! The moment the Master arrived, the pastor came out, and taking 'Abdu'l-Bahá's arm with great reverence, accompanied Him to the pulpit. The Master's address was on the degrees of oneness and unity. At the close of His talk, He chanted, with His hands uplifted and in a melodious tone, a prayer in eloquent Arabic that was translated sentence by sentence.
Afterwards, at the request of the pastor, 'Abdu'l-Bahá visited the school, which is conducted in connection with the same church. Here, after the children sang and paid their respects to the Master, He encouraged them and spoke to them regarding their education.
'Abdu'l-Bahá had lunch in Brooklyn at the home of Mr. MacNutt. There He spoke to a gathering of the friends about the admonitions and exhortations [of Bahá'u'lláh], saying that they should be thankful for the bestowals and favors of God.