Stories about 'Abdu'l-Bahá
'Abdu'l-Bahá arrives in Boston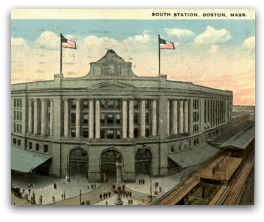 'Abdu'l-Bahá left New York at 8:00 a.m. for Boston and Dublin, reaching Boston at 3:30 p.m. A number of friends were at the train station to receive Him. As soon as they saw Him, they hovered around Him like moths around a candle, anxious to sacrifice themselves before Him. As He did not plan to stay in Boston for more than two nights, He instructed everyone in His entourage except an interpreter and a secretary to go directly to Dublin.
He then went to the Hotel Victoria where the public meeting was held at 6:00 p.m. There were both Bahá'ís and non-Bahá'ís present as well as some journalists …
His address was on economic problems.
In the evening He was invited to dine at the home of Mrs. [Alice Ives] Breed. As the Master left the hotel, crowds of people stood in rows as He passed through them. That evening He spoke about the persecutions and tribulations of the Manifestations of God, the reconciliation of the hearts and the victory of this blessed Cause of God. After dinner He made the long and tedious journey back to the hotel.