Stories about 'Abdu'l-Bahá
Leland Stanford Junior University – The Master addresses audience of 2000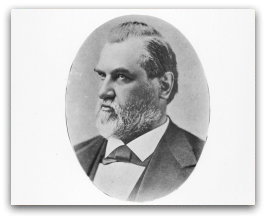 Today was one of the most significant days. At the invitation of Dr David Starr Jordan, 'Abdu'l-Bahá went to Leland Stanford Junior University in Palo Alto. The teachings of the Cause of God were given to a large, illustrious audience at this important educational center. Apart from some 1,800 students and 180 professors from the university, many civic leaders and prominent people from the area were also assembled in the auditorium; its satellite rooms and hallways were full and many people were standing outside the entrance as well.
The president stood and made his introductory remarks:
It is our privilege to have with us, through the kindness and courtesy of our Persian friends, one of the great religious teachers of the world, one of the natural successors of the old Hebrew prophets. He is said sometimes to be the founder of a new religion. He has upward of three millions of people following along the lines in which He leads. It is not exactly a new religion, however. The religion of brotherhood, of good will, of friendship between men and nations is as old as good thinking and good living may be. It may be said in some sense to be the oldest of religions … I have now the pleasure, the great honor of presenting to you 'Abdu'l-Bahá.
The Master then spoke about the unity of all phenomena, man's predominance over nature, universal peace and divine civilization in such a way that the entire audience was overcome with admiration. The applause shook the building to its very foundation. The president closed this memorable occasion with these remarks:
We are all under very great obligation to 'Abdu'l-Bahá for this illuminating expression of the brotherhood of man and the value of international peace. I think we can best show our appreciation by simply a rising vote of thanks.
The audience immediately rose and showed their respect by clapping and stomping their feet.
The Master had lunch with Dr Jordan at his home.