Stories about 'Abdu'l-Bahá
Leaving Green Acre while friends lined both sides of the road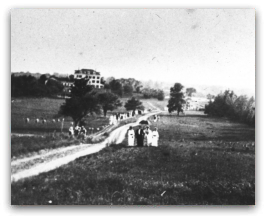 In the morning, while the Master was preparing to leave, He said:
We have finished our work here. We have sown a seed. Many souls have been attracted and transformed. Every day we have seen gifts such as fruit, flowers, honey and sweets which have been placed here anonymously and without show. This is a proof of the sincerity of their hearts.
'Abdu'l-Bahá was delighted to witness the influence of the Word of God on Green Acre. Indeed, it has become a second paradise on earth and had been transformed into verdancy and freshness.
At His instructions, the suitcases were packed and the carriage readied. The believers and seekers were burning with the fire of love, lamenting and shedding tears. 'Abdu'l-Bahá sat in the carriage while the friends lined both sides of the road. For as long as the carriage remained in sight, they continued to wave their hats and handkerchiefs in farewell. On the way He stopped to visit Miss Farmer, who fell at His feet weeping and received from the Master His infinite favor and utmost kindness.
'Abdu'l-Bahá left Green Acre at 10:00 a.m. and reached Malden, Massachusetts, at 1:00 p.m. He arrived at the home of Miss [Marie P.] Wilson, whose invitation to stay at her house He had accepted. A new spirit was breathed into the bodies and a divine happiness was shed upon the hearts.
As He was tired, 'Abdu'l-Bahá did not eat but instead rested for awhile.
In the afternoon and evening many friends were honored with meeting Him.