Stories about 'Abdu'l-Bahá
Juliet: May 26 – a glimpse of the Master's true station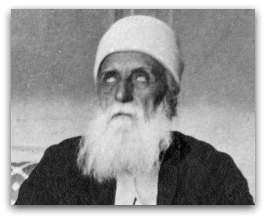 The Diary of Juliet Thompson
On Sunday, 26 May, the night of the Master's return from Boston, He spoke at Mr Ramsdell's (Baptist) church.
My friend, Lawrence White, who lives in Utica, had come to New York to met the Master, and he, Silvia Gannett, and I went together to the church.
We entered, to see a breathtaking picture: That church suggests an old Jewish synagogue. Behind the chancel is a sweeping arch from which hangs a dark, massive curtain in folds straight as organ pipes. The chancel was empty that night except for the Master, sitting—almost lying—in a semicircular chair, His head thrown back, His luminous eyes uprolled. The sleeves of His bronze-coloured 'aba branched out from His shoulders like great spread wings, hiding His hands, so that I was conscious only of His head and those terribly alive eyes. There was an awful mystery about that dominance of the head. It seemed to obliterate the human form and reveal Him as the Face of God. The curtain behind Him might have concealed the Ark of the Covenant, which He, THE COVENANT, was guarding.
Later, when He rose to speak, the Manifestation of the Glory was entirely different. He diffused a softer radiance.
"Look at Him and see the Christ," whispered Lawrence White.
Next, He spoke at the Church of the Open Door. Again the Shepherd. Again I watched Him through blinding tears.