Stories about 'Abdu'l-Bahá
Juliet: May 13 — "I work by the confirmations of the Holy Spirit"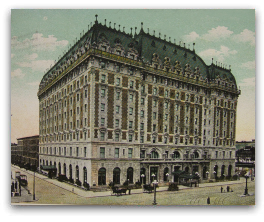 On the thirteenth of May (Percy Grant's birthday) a meeting of the Peace Conference took place at the Hotel Astor. It was an enormous meeting with thousands present. The Master was the Guest of Honour and the first speaker, Dr. Grant and Rabbi Wise the other speakers.
The Master sat at the centre on the high stage, Dr. Grant on His right, Rabbi Wise on His left. Oh, the symbolism of that: the Jewish rabbi, the Christian clergyman, with the Centre of the Covenant between, on the platform of the World Peace Conference. [see the Promulgation of the Universal Peace]
The Master was really too ill to have gone to this Conference. He had been in bed all morning, suffering from complete exhaustion, and had a high temperature. I was with Him all morning. While I was sitting beside Him I asked: "Must You go to the Hotel Astor when You are so ill?"
"I work by the confirmations of the Holy Spirit," He answered. "I do not work by hygienic laws. If I did," He laughed, "I would get nothing done."
After that meeting, the wonderful record of which has been kept, the Master shook hands with the whole audience, with every one of those thousands of people!