Stories about 'Abdu'l-Bahá
Juliet: June 29 – "This is a New Day; a New Hour"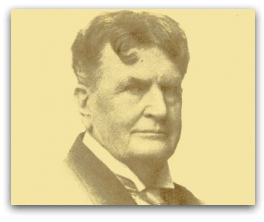 The Diary of Juliet Thompson
Almost a week passed before we saw our Lord again. Then, on the twenty–ninth of June, we met Him at West Englewood. He was giving a feast for all the believers in the grounds around Roy Wilhelm's house, the "Feast of Unity" He called it.
I went with dear Silvia Gannett. We walked from the little station, past the grove where the tables were set — a grove of tall pine trees — and on to the house in which He was, He Whose Presence filled our eyes with light and without Whom our days had been very dim and lifeless.
Ah, there He was again! Sitting in a corner of the porch! I sped across the lawn, forgetting Silvia, forgetting everything. He looked down at me with grave eyes, and I saw a fathomless welcome in them.
For a while we sat with Him on the porch. Then He led us down into the grove. There He seated Himself on the ground at the foot of a pine tree and called two believers to His right and left. One was Mrs. Krug in her very elegant clothes, the other a poor and shabby old woman. But both faces, the wrinkled one and the smooth, pretty one, were beautiful with the same radiance. I shall never forget that old woman's shining blue eyes.
The great words He spoke to us then have been preserved. I will not repeat them. Besides I remember them too imperfectly. But He said one thing which woke my whole being: "This is a New Day; a New Hour."