Stories about 'Abdu'l-Bahá
Juliet: June 29 – Anointing two hundred and fifty friends with attar of rose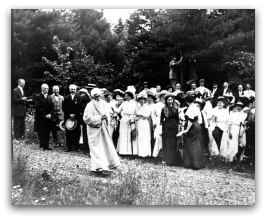 The Diary of Juliet Thompson
Later, as we sat at the tables, two hundred and fifty of us, He anointed us all with attar of rose. I was not at a table but sitting under a tree with Marjorie Morten and Silvia. The Master swept toward us in His long white robes, forever the Divine Shepherd.
"Friends here?" He smiled, "Friends?"
In His voice was a thrilling joy. With a look that shook my heart, so full was it with the musk of His Love, He rubbed my face hard with the attar of rose.
He passed among all the tables with His little vial of perfume (which Grace Robarts swears was almost as full at the end as in the beginning) anointing the forehead of every one there, touching and caressing all our blind faces with His tingling fingers.
Then He disappeared for hours.