Stories about 'Abdu'l-Bahá
Juliet: June 23 – Juliet and Lua venture to see 'Abdu'l-Bahá in Montclair, uninvited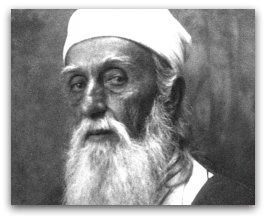 The Diary of Juliet Thompson
It had nearly killed Lua not to be taken to Montclair with Him. Two days later she said to me: "Let's go to see Him, Julie."
"How can we, Lua? He didn't invite us," I answered. "He bade us goodbye for nine days."
"Oh but you have an excuse, those proofs of Mrs. Kasebier's pictures. You really should show them to Him, Julie."
And she whirled Georgie Ralston and me off to Montclair with her.
We were punished of course, and our first punishment was that lunch was unusually late (so that instead of arriving after, as we had planned, we arrived just in time for it). And this was agonizing, for there weren't enough seats at the table, and the Master wouldn't sit down to eat. One of us had to occupy His chair, while He Himself waited on us, carrying all the courses around and around that table. I couldn't get over my mortification.
At the end He came in with the fruit, a glass bowl full of golden peaches. Without turning His head — His face was set straight before Him — He sent a piercing glance from the corner of His eye toward Lua and me. Such a majestic, stern glance, like a sword-thrust.
After lunch, and this was our second punishment, He banished the three of us — Georgie, Lua, and me — leading us to a small back porch and abandoning us there. But before very long He returned and asked us to take a walk with Him.