Stories about 'Abdu'l-Bahá
Juliet: June 19 – Arranging for a photograph of the Master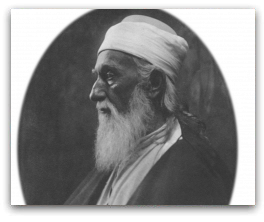 The Diary of Juliet Thompson
Still later that afternoon the Master had promised to sit for a photograph. I had made the appointment myself with Mrs. Kasebier, a very wonderful photographer, to bring the Master to her studio, but some people prevented His getting off in time. When they left, He sent for me.
"I am ashamed," He said (while I nearly died at that word "ashamed" from Him), "but I will go tomorrow. I had planned to leave for Montclair tomorrow but I will stay until Friday for your sake."
"I can't bear, my Lord," I said, "to have You delay Your trip to the country for this."
"No, I wish it," He answered.
"I have a confession to make, my Lord," I said. "I have been to Dr. Grant's house. It happened in this way: he asked if I would be the bearer of his photograph to You and would I stop at the Rectory for it on my way up to You. Then he invited me to come to breakfast. That invitation I declined, but I could think of no excuse for refusing to stop for the picture. So I did go. But I stayed only five or ten minutes and his mother was with us all the time."
"Good, good," said the Master. "Going to his house was not good, but since you have confessed it, Juliet, I am very much pleased. When I look into your heart," He added, smiling, "I find it just like that mirror — it is so pure." (Oh, please understand me, when I repeat such things it is only because they are His words to me. I keep them just to remind myself of something potential He sees in me which I must grow up to. I am not reminding myself of His praise, for it really isn't praise but stimulation. If He had been blaming me, I would repeat His blame too.)
He then spoke of my teaching. "Your breath is effective," He said. "You are now in the Kingdom of Abha with Me, as I wished you to be."