Stories about 'Abdu'l-Bahá
Juliet: June 12 – The Master says good bye to Reverend Percy Grant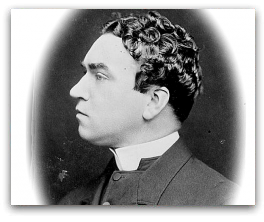 The Diary of Juliet Thompson
At noon I took Percy Grant to the Master. The Master had inquired for him and sent him a message by me, and Percy had responded instantly by himself suggesting this visit. But the Master was out when we reached the house and while we were waiting for Him I mentioned a very interesting thing He had said to Gifford Pinchot: that the people were rising wave upon wave, like a great tide, and the capitalists, unless they realized this soon, would be driven out with violence; also, that in the future the labourer would not work on a wage basis but for an interest in the concern.
Just then Lua appeared at the door of the room opposite, went to the stairway and, with her beautiful reverence, leaned across the rail to look down.
"He is coming, Lua?"
"Yes, Julie, He is coming!"
He entered the room with both hands extended and in a voice like a chime from His heart, said: "Oh-h, Dr. Grant! Dr. Grant!"
Then I slipped out.
When I returned at the Master's call, He was signing a photograph for Percy and writing a prayer on it. "And now," he said, presenting it, "you must give Me your photograph. I want your face. I have given you Mine. Now you must give Me yours."
"I will pray for you," He added as He bade Percy goodbye. "I will mention you daily in My prayers."