Stories about 'Abdu'l-Bahá
Juliet: April 15 – 'Abdu'l-Bahá's Message to Reverend Percy Grant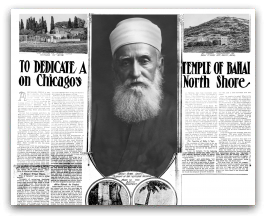 The next morning, through Ahmad, the Master telephoned me. He wanted to know how I was.
"Tell Him my heart is burning for Him just as it used to in Haifa."
"The Master says: come at once to Him."
And scarcely was I seated in His room when He began to speak of Percy Grant. He spoke with great love, with great appreciation of the service Percy had rendered, but told me to be very careful in my relations with him.
"You must keep your acquaintance, Juliet, absolutely formal."
Then He gave me this message:
"Convey to Dr. Grant My greetings. Say: I will not forget the services thou hast rendered yesterday. They are engraved on the book of My heart. I will mention thy name everywhere. And know thou this: This matter of yesterday will become most wonderful in the history of the world. The world of existence will not forget yesterday. Thousands of years hence the mention of yesterday will be heard and it will become history that you were the founder of this work.

"I ask of God for you all those things I have asked for Myself and they are: that thou mayest become a sincere servant of God and serve in the Kingdom of God and become sanctified and holy; that thou mayest find a pure and enlightened heart, an illumined face; become the cause that the lights of spiritual morals may illumine the hearts in this country and that they may be illumined in the world of the Kingdom; become the promoter of Truth and deliver the souls from ignorance and prejudice. I supplicate to the Kingdom of God for you, and I will never forget the love that was manifested yesterday."
"I hope," said the Master, turning to me, "that he will become a believer, but I do not know. The rectorship of that church is in the way. If he could give it up of his own volition, then he might become a believer."
He spoke of my dear mother: "Convey to thy mother the greetings of Abha. Say to her: Always remember My advices. It is my hope that thou mayest forget everything save God. Nothing in this world is sufficient for man. God alone is sufficient for him. God is the Protector of man. All the world will not protect the soul."
I sent Percy Grant the message and later he telephoned me.
"That was a wonderful, wonderful message," he said, his voice strangely upset.