Stories about 'Abdu'l-Bahá
Juliet: April 14 - Just before meeting the congregation at the Church of Ascension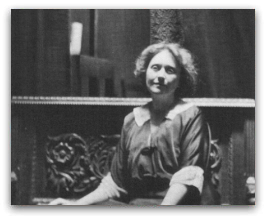 Sunday. Oh, Sunday!
At the Master's own invitation I met Him at the Rectory, a half hour before the service.
As Miss Barry was holding her Sunday school class downstairs, we were invited upstairs, to the back room on the second floor. There, with the Master and the Persians and Edward Getsinger, I waited in supreme happiness. Very soon Percy came in. Approaching the Master, he bent his head reverently.
"In New Testament language," he said, "this would be called an upper chamber."
The Master smiled sweetly and took his hand.
After he left, the Master turned to me. "This is a dish you have cooked for Me, Juliet," He laughed.
"I hope it is cooked all the way through!"
"Insha'llah," smiled the Master.
"I have more dishes to serve to You when You are rested," I ventured.
"I hope they are light," He replied, "and will rest easily on My digestion. Most of these dishes are so heavy!"
I inquired for dear Ruha Khanum, who has been very ill.
"I have put her in the hands of the Blessed Perfection," said our Lord, "and now I don't worry at all."
He spoke of my mother very lovingly.
"Tell her to trust in God," He repeated. "Tell her that God is faithful. Read the Hidden Words to her."
The time came to go to the church. The Persians, Edward Getsinger, and I went first: marching in, as Percy had planned it, with the processional, bringing up the rear of the processional! For nearly a year I hadn't once entered the Church of the Ascension; and now, what a very surprising return!
The Master waited in the vestry-room.