Stories about 'Abdu'l-Bahá
The "harmony that comes about through the love of God is infinite and everlasting."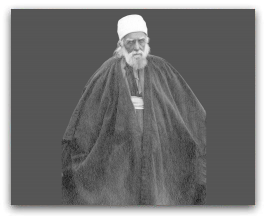 The Master was invited by the poet Mr. Moxey and Mrs. Moxey for supper. The hosts were among the devoted friends of 'Abdu'l-Bahá and they were eloquent in their praise of Him. During the Master's previous visit to New York Mr. Moxey had written a book of poetry, describing the demeanor, majesty and power of the Master. Mrs. Moxey, who was a famous musician, opened the gathering by playing the piano and singing a melodious song of praise in His honor. The Master began His address with these words:
I praise God that I am with you. Such an assembly would be utterly impossible to hold through worldly power and outward means because you are Westerners and we are Easterners. There was nothing to connect us. We had neither patriotic, racial, commercial nor political connections with you. But Bahá'u'lláh removed all these estrangements and prejudices and invited all to divine love. He joined all under the shade of the blessed Word. Hence, we are united and assembled here in such love. This love is the greatest of all means, as all other means and ties are limited; but harmony that comes about through the love of God is infinite and everlasting.
These impressive words transformed the hearts. After the meeting several of the friends and His companions were honored to have supper with Him. Everyone was grateful and showed great devotion in that home.