Stories about 'Abdu'l-Bahá
A group of four hundred people sang in unison songs of praise to 'Abdu'l-Bahá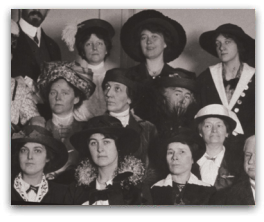 In the afternoon 'Abdu'l-Bahá went by automobile to the home of Mrs. [Kate] Ives and sat next to the driver, which is where members of His entourage usually sit. He sat there until the party arrived. When a number of the friends had gathered, He went with them to the hill of Monsalvat. As soon as He arrived about four hundred people sang songs of praise to Him in unison. He addressed this gathering on the necessity of founding the school for the investigation of religions which Miss Farmer wished to establish on that mountain. A moving picture of this gathering was taken.
The gathering was also characterized by a renewed enthusiasm, ardor and love, which seemed to draw all hearts. It was an auspicious day.
He then went to Mrs [Esther Annie] Magee's home where He dined with a group of friends. He spoke to them about the proofs and evidences of the existence of God and the composition of elements according to the will of the Almighty.