Stories about 'Abdu'l-Bahá
The extraordinary warm reception and response from members of Theosophical Society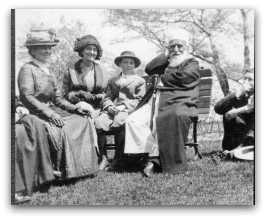 In the afternoon 'Abdu'l-Bahá was invited to speak at the Theosophical Society where He ignited a fire of spirituality in the minds of the audience. The president of the society introduced the Master with great respect, saying:
Gentlemen, today it is a great bounty and high honor for us to be in the presence of a person who is the greatest prophet of peace and harmony. There is no doubt — and I feel and say on behalf of the audience — that to the present time we have not had the honor of hearing the life-giving words from the tongue of a living prophet. Therefore, with unbounded happiness and heartfelt honor I present to you His Holiness 'Abdu'l-Bahá, the prophet of peace and the founder of universal brotherhood.
The Master rose and spoke brilliantly about the distinction between spiritual realities and the animal nature of man, and the appearance of the perfection of man in the image of God. He explained some of the teachings of the new Manifestation. The audience applauded with so much excitement and joy that it felt as though there were an earthquake in the auditorium.
The president thanked the Master and acknowledged the truth and greatness of 'Abdu'l-Bahá. To show their concurrence with the words of their president, the members of the audience rose together in great excitement, a clear proof of the extraordinary powers of the Center of the Covenant. 'Abdu'l-Bahá again arose and spoke:
I am very happy with your warmth and consideration. God be praised that there exist in America such societies founded on human principles, the appreciation of spiritual values and the investigation of truth. I am most grateful to this society and hope that your inner perception may increase and that the bounties of God will be with you.
When the Master went into another room the people rushed into it. Most of them wished to tell Him, 'We testify to the truth of this Cause.' The degree of excitement in the hearts of such a large gathering cannot be imagined. That such a transformation can occur in such a country is beyond belief.