Stories about 'Abdu'l-Bahá
Everyone was fascinated by the majesty and grandeur of 'Abdu'l-Bahá and gave their hearts to Him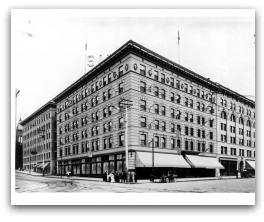 A public meeting was held in the afternoon at the home of Mrs. Roberts. 'Abdu'l-Bahá walked awhile in the garden outside the house. Although most of the friends watched Him respectfully from a distance, when several ladies from Washington DC saw Him, they ran towards Him, expressing their faith and happiness in the divine teachings which they had heard from His own lips in Washington.
In brief, the Master's talk that afternoon was to say farewell to the friends, to encourage them in their endeavors to diffuse the fragrances of God and to explain issues related to teaching. They were all set ablaze by His words.
In the evening the proprietor of the Hotel Shirley and the publisher of a newspaper announced that there would be a public meeting in the large hall of the hotel. The spacious room was filled to capacity. I will never forget the joy and excitement of the audience. At times the audience was plunged into a state of sadness and wonder and then into a state of such happiness and joy that peals of laughter could be heard outside the building. It is not possible to describe the excitement and attraction of the people. They all expressed their sadness that the Master was leaving the city. Those men and women staying at the hotel who because of their wealth and pride had previously not deigned to look at us, now sought us out. Everyone was fascinated by the majesty and grandeur of 'Abdu'l-Bahá and gave their hearts to Him.