Stories about 'Abdu'l-Bahá
Conversation with some colored people at Parsons' boat house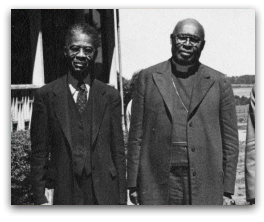 I saw 'Abdu'l-Bahá for only a short time this morning, as I was lunching with the Jencks. He spoke to all the colored people at our boat house at four. There were twenty-eight of them I believe and they appeared pleased. 'Abdu'l-Bahá shook hands with them all before He left.
We came at once to our house, and with Mrs. Hoagg, and Mrs. Lucy Anna Childs, spent about l/2 hours in the bird cage. Mrs. Huidekoper came to call on me so I could not be there. Mr. and Mrs. Charles MacVeagh, Mrs. Isabel Chapman Mauran, arrived for group talk. And the two questions asked by Mr. and Mrs. MacVeagh brought forth most interesting answers.
I am now, with 'Abdu'l-Bahá's permission, telling people that He will speak at five on Thursdays and Fridays, and at l/4 to 6 on all other days.