Stories about 'Abdu'l-Bahá
Characteristics of a person who is endowed with perception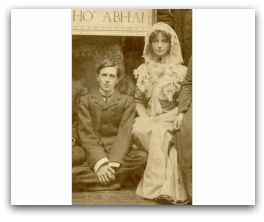 Excerpt from a Talk by 'Abdu'l-Bahá
Residence of Mr. and Mrs. Parsons
A person who is endowed with perception has spirituality and heavenly attributes; he can recognize that the human soul has never been subject to annihilation and will never become so. He sees that all created beings are in harmony with the spirit and are under its influence. He knows himself to be eternal, everlasting, constant, imperishable and encompassed by the lights of God, the Lord of glory. For he has spiritual susceptibilities and is affected by conscience and spiritual impulses. He is not limited by rational constraints or human emotions and sentiments. However, the man who has no perception or inner sight finds himself always dejected and lifeless; every time he thinks of death, he is afraid, because he considers himself to be mortal.

Blessed souls are not of this category. They sense that they are eternal, luminous and imperishable like the disciples of Christ. It is for this reason that at the time of death or martyrdom Bahá'ís rejoice, because they know there is no death or annihilation for them. At most, the body disintegrates but the soul exists in the divine world and has everlasting life.
The audience was deeply moved by this address and all expressed their satisfaction and became devoted to 'Abdu'l-Bahá.