Stories about 'Abdu'l-Bahá
Chairman of Theosophical Society gives impressive introduction about 'Abdu'l-Bahá to audience of five-hundred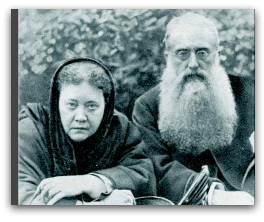 'Abdu'l-Bahá returned to Malden in the morning. He was occupied chiefly in writing letters to the American friends. Believers and seekers came by ones and twos and He lovingly received them.
In the evening there was a well-attended meeting at the Theosophical Society. The gathering became the dawning place of the confirmations of the Abha Kingdom. The chairman of the meeting introduced the Master to an audience of some five hundred saying:
Several months ago I attended a convention on the emancipation of religions in this city. Many people of different religions and sects spoke, each one praising the beliefs of his own sect. But a very august personage then stood. By His bearing and by the first few words of His address, everyone felt that this person was spiritual and divinely inspired; that His explanations were heavenly; that He was speaking from God; that He could transform the souls; that He was with God and was the herald of peace and love; that what He said was first practiced by Himself; and that He was a flame from the Kingdom which brightened and illuminated the minds and hearts of all. That august person was 'Abdu'l-Bahá. I am not worthy to introduce His Holiness to you. You will yourselves know Him better than I.
'Abdu'l-Bahá then stood and gave a stirring address concerning the movement of atoms and the infinite forms that compose this contingent world and gave an explanation of the new teachings of the Cause. During the address, every heart and soul was enthralled. After the meeting everyone spoke of feeling the bounties of the Holy Spirit and of the need for these teachings of love and unity.