Stories about 'Abdu'l-Bahá
Believers from the East and West sitting together with love and affection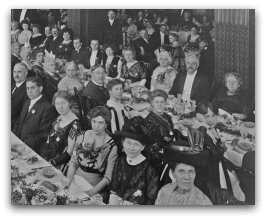 The Master then went into the dining room of the hotel where He was delighted to see the beaming faces of the friends, the brightness of the electric lights, the table decorated with colorful flowers and the hearts immersed in the love of God. More than 50 people were seated around the table. The Master sat at the head of the table while the Persian friends sat nearby. In great happiness 'Abdu'l-Bahá spoke these heavenly words:
It is an excellent table for we have assembled here through the love of Bahá'u'lláh. Tonight I am exceedingly happy to be with you. You must be very happy and in a prayerful attitude for no better meeting could be held. The holding of meetings at which people from the East come to the far West and sit together with you with such love and affection was impossible but through His penetrative power Bahá'u'lláh has made this easy and has joined the East and the West. Would that the friends of Persia were here now and could see this!
… About 40 of the friends stayed at the hotel rather than return to their homes that night.