Stories about 'Abdu'l-Bahá
An automobile for 'Abdu'l-Bahá's use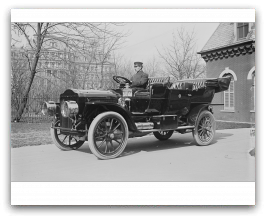 Early in the evening when He returned to the hotel the Master discovered that the editor of The Post had placed an automobile at His disposal. On the way to the Church of Divine Science, He remarked:
Behold the power and confirmation of the Blessed Beauty: The pastor comes in person with all humility to invite us and the proprietor of a leading journal sends his automobile for our use, so that we may raise the call of God in the church. Truly, such confirmations have never been seen in other dispensations and in no age have the Manifestations of the Cause of God met with such reverence and honor. But these things should be the cause of humility and self-effacement. We must not consider that they are due to our addresses or our eloquence. These shining lights which you see will instantly darken if the origin of their bounty is severed from them.
When the Master's automobile reached the church, a crowd of people was seen standing outside. Immediately the pastor came forward, and taking the Master's arm, led Him to the pulpit. The pastor reverently introduced the Master to the audience. Then 'Abdu'l-Bahá stood and delivered an address on the reality and condition of the Manifestations of God. After His talk, the people came to the pulpit to see Him and shake His hand, surrounding Him like moths. Another clergyman, with the utmost humility, asked the Master to speak at his church. He was so persuasive that every tongue was forced to say, 'All heads are bowed before Him.' With great courtesy, the Master tendered His apologies because of His limited time but promised to return.