Stories about 'Abdu'l-Bahá
Agnes: April 27 – A magnificent reception in honor of 'Abdu'l-Bahá's last day in Washington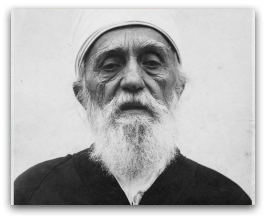 Juliet Thompson came in for quite a while on Saturday and Miss Gaither arrived in the afternoon, to spend the night and attend the reception. I went down at 9:30 P.M. and found everything looking very lovely. I had arranged for 'Abdu'l-Bahá to sit on the large sofa in the south eastern corner of the library, but others took possession of it and as I had to receive, I haven't yet heard in detail the way and where the people were presented to Him.
Several told me of things that 'Abdu'l-Bahá had said to them. To General Adolphus Greely He said, "I have often sympathized with you in the experiences of hardship which you had in your earlier years," showing that He knew the General's history and adventures in arctic regions.
To Admiral Wainwright "You are a good admiral, because you believe in peace. Admiral Wainwright answered: "My wife makes me do so."
I found that Mrs. Sherman Niles had not met Him, so I told her I wanted to present her to Him. He said something very lovely about her: "You are a good daughter and here is your good mother."
I said, "She has a good mother of her own." Just then Mrs. Noble came up. I said: "This is her mother."
'Abdu'l-Bahá replied: "You are very happy to have two mothers." This was interesting as I have had a very unusual affection for Yulee, although I've seen little of her.
Most of the people had gone away, when I went down to the music room. We expected 'Abdu'l-Bahá would follow, but a little later, when Dr. Fareed went upstairs to see if He would grant an interview to Mrs. Garfield, who had come in, he found that 'Abdu'l-Bahá had gone to bed.
The music seemed to be enjoyed and several persons spoke appreciatively of the way things went off.