Stories about 'Abdu'l-Bahá
Agnes: April 22 – Persian dinner and Persian costumes for Mr. and Mrs. Parsons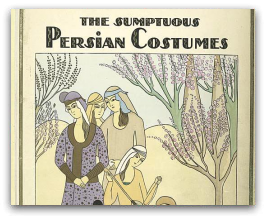 Late in the afternoon 'Abdu'l-Bahá walked. A Persian dinner, cooked by Mirza Sohrab, was served by 'Abdu'l-Bahá about 8 o'clock. The appointed hour was 7:30, but they say a Persian dinner is never on time. 'Abdu'l-Bahá served and talked while the others ate.[see The Promulgation of the Universal Peace] There were present Saied Assad 'Ulla, Mirza Mahmood, Ali Kuli Khan and secretary, Dr. Fareed, Dr. Getsinger, Mirza Sohrab, Mr. Remey and Mr. Joseph Hannen.
After dinner 'Abdu'l-Bahá dictated answers to cablegrams that have recently come on account of the Feast of Rizwan. I asked if these cablegrams were to be destroyed. "Would you like to have them?" He asked. I told him I would and Dr. Fareed has promised to translate them.
Mr. Parsons had his Persian costume brought down. It was much admired. One of the Persians who examined it said the embroidery was very beautiful and at least three or four hundred years old. Mrs. Randolph returned at about ten to play piano for 'Abdu'l-Bahá. The party went into the large room, but 'Abdu'l-Bahá went into the little room, where His dinner was served and He preferred hearing the music at a distance. Juliet Thompson, who had telephoned me of her arrival, came in and 'Abdu'l-Bahá invited her to sit with Him. "Eat, eat," He said, so a plate was brought and she shared the meal with Him. 'Abdu'l-Bahá said Mrs. Randolph's music was very good, then jokingly said, "Ask Dr. Getsinger to sing now he sings like a canary."
Dr. Randolph came for Mrs. Randolph. 'Abdu'l-Bahá asked that he sit by Him and he spoke of the healing power of music, in the belief of the ancient Persians certain airs were supposed to be healing to tuberculosis in its early stages. Also the subject of Rand Kennedy's play The Terrible Meek was commented upon. Mr. Kennedy had persuaded 'Abdu'l-Bahá to see the play in New York. 'Abdu'l-Bahá said: "If, instead of making it sensational, he had taken certain incidents in the life of Christ, the play would have had great value." Then 'Abdu'l-Bahá touched on the salient points in the life of Christ in a most wonderful manner.
I omitted to say that instead of finger bowls at dinner, a Persian (or Eastern) basin and ewer, which I borrowed from Mrs. Richardson, was passed around, the servant carrying the towel on her arm. This is the custom in Persia.
During the evening Mr. Parsons asked me to put on the Persian costume and show it to 'Abdu'l-Bahá. As I came into the room He laughed and shouted: "Mrs. Hemmick!" The costume has many bright colors.