Stories about 'Abdu'l-Bahá
Agnes: April 20 – First Day in Washington DC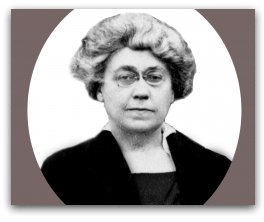 'Abdu'l-Bahá, Dr. Fareed, Dr. Getsinger and two Persians [Mirza Valiyu'llah Nakhjavani and Mahmud-i-Zarqani] arrived in Washington about one o'clock on Saturday, the twentieth of April. Mrs. [Alice Barney] Hemmick sent her motor[car] and I, my [horse drawn] carriage to meet the party. 'Abdu'l-Bahá had asked that the time of this arrival be kept quiet as He was anxious that no demonstration be made. He was met by Mirza Sohrab, Mme. [Florence] Khan and her children [Marzieh, Hamideh, and Rahim] and immediately brought to our house.
The day before leaving New York, He had interviewed two hundred and fifty people in the morning, besides speaking before large audiences in the afternoon and evening, and Dr. Fareed thought it would be wise for Him to rest as much as possible before the meeting at which He would speak in the evening here. Consequently He went to His room where he rested before luncheon and again immediately afterward, while Dr. Fareed and I went to a reception at Rauscher's. When we returned, 'Abdu'l-Bahá, Dr. Fareed and Mr. [Charles Mason] Remey went for a short drive.
While we were at dinner, Mrs. [Helen] Goodall and Mrs. [Ella] Cooper arrived to see 'Abdu'l-Bahá by appointment, which detained us. Mirza Sohrab telephoned that the audience was growing impatient. The meeting was held at the Carnegie Library. When we reached the hall, we saw that every inch of standing space was occupied: a path had to be made along the halls and stairs for our party and I noticed that there were several who reached out to touch His garment. There were present five reporters.
'Abdu'l-Bahá made His address which Dr. Fareed translated into beautiful English. He spoke mainly of Peace and Arbitration. The people were asked to stand while He gave His Blessing in Persian — this was not translated. There was great insistence on the part of many in the audience to meet Him, but this had to be refused as He needed rest.
When we reached home 'Abdu'l-Bahá's evening meal was served to Him in the morning room and we talked for some time. I asked about Mr. F.D. Millet who was recently lost in the Titanic disaster, telling 'Abdu'l-Bahá that he had been very dearly beloved an artist, who, as well as his work had been appreciated in both Europe and America. 'Abdu'l-Bahá's answer was: "Where one has been devoted to his work in life art, or whatever it may be, it is regarded as worship and he is undoubtedly surrounded by the mercy of God." He also said: "If one does you a service and at some other time a wrong, overlook the one for the other — think only of the good." 'Abdu'l-Bahá told me that the [Parsons?] family would spend a year in the Holy Land on account of the illness of some one — that the Holy Land would be chosen because of the mildness of climate.
'Abdu'l-Bahá has His meals as follows:
7 A.M. Tea and bread
1:30 P.M. Dines with the family
4 P.M. Tea 7:30 P.M. Sits with the family at dinner but partakes of no food Himself
10 P.M. Simple meal.
While sitting with the family last night at the dinner hour, He looked over many cablegrams mainly from foreign and far off places, congratulating America on having the honor of His presence.