Stories about 'Abdu'l-Bahá
'Abdu'l-Bahá wrote a Tablet for Agnes Parsons' son, Jeffrey, at her request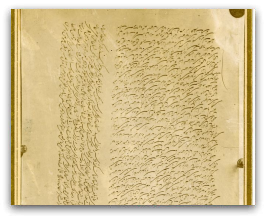 This morning Mirza Valiyu'llah Khan brought a letter in answer to Jeffrey Boy's post card, written to Jeffrey by the hand of 'Abdu'l-Bahá.
Bettina and I walked to Day-Spring and found 'Abdu'l-Bahá talking to a group of people. He laughed and said that now that I was there, there would be no lack of questions, and there wasn't. I wish I could recall the things said. Part of the talk was on evolution. I think Mirza Sohrab must have taken it down. 'Abdu'l-Bahá walked up nearly to the house with us.
About 75 people came this afternoon. Dr. Josiah Lafayette Seward asked 'Abdu'l-Bahá to speak in his pulpit on Sunday after next as someone has already been asked for the coming Sunday. 'Abdu'l-Bahá said He will do so if He is here. He finds the air too invigorating and will try sleeping this Friday night at the lower inn. Mrs. Eliza Frances Pumpelly will drive Him there.