Stories about 'Abdu'l-Bahá
'Abdu'l-Bahá visits Niagara Falls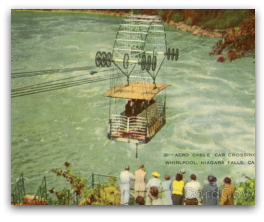 At the request of some of His companions, after a short walk He took the trolley to Niagara Falls. It was far away and the round trip fare cost 50 cents per person. We had never seen or heard such huge, magnificent waterfalls. It was a beautiful sight. The great river feeding the falls is flanked on both sides by lakes, fields, mountains and woods. At some places the river falls from a height of a hundred meters. Because of the height of the falls and the crash of the water, small droplets of water form sprays which appear like a great sand storm. Below is a very large lake where people entertain themselves in barges and sailboats.
'Abdu'l-Bahá went to the edge, admired the great falls and recalled the days of the Blessed Perfection:
There were small waterfalls in Mazindaran which Bahá'u'lláh liked so much that He used to camp near them for several days.
Continuing, He said:
So much electricity can be generated from this water that it will suffice the whole town and it is also very good for the health.
While sitting on the bank of the river He ate some pears and grapes and then walked for some time in the park. We suggested that He should stay here a few days but He replied, 'Even half a day is not possible. We have no time for amusement. We must keep ourselves engaged in our work.'