Stories about 'Abdu'l-Bahá
'Abdu'l-Bahá showed a special measure of love and kindness towards neighborhood children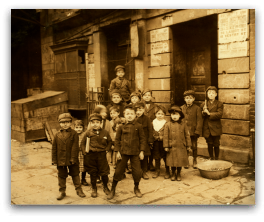 In the afternoon the children who had earlier seen the Master on the way from school, had been so attracted and had asked to see Him, came to visit Him. He spoke to them with deep affection and kindness, asking about their health and welfare. To each He gave candies and flowers and then sprinkled them with attar of rose. He then gave them kindly counsels and encouraged them to acquire knowledge, science, good morals and sincerity, saying:
I hope that you will be educated as you ought to be and that each of you will become the pride of your family. May God assist you to acquire divine knowledge in the school of the world of humanity. I shall pray for you and beg assistance for you. Truly, the hearts of the children are very pure. This was why Christ said, 'Be ye like children.' Praise be to God who created you illumined children. Praise be to the Lord who hath created His creatures perfectly. God has created you as human beings so that you may daily acquire better morals and human virtues. You must obey your parents so that they may be pleased with you, and so that God will be pleased with you, and that you may become the children of the Kingdom and mirror forth the words of Christ.
Although these young visitors were children, they took their leave in an attitude of sincerity, reverence and attraction that astonished all.