Stories about 'Abdu'l-Bahá
'Abdu'l-Bahá sees what is within a human being rather than just their actions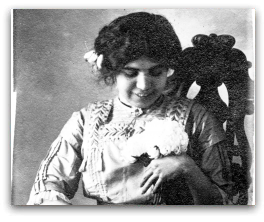 'Abdu'l-Bahá and Mirza Ahmad Sohrab arrived at this house before I was up, but it wasn't really early, because I have been staying in bed late. I dressed as quickly as I could and went down to find them in the "bird cage."[a wooded area near her house where birds would gather to feed] 'Abdu'l-Bahá spoke on most interesting and vital subjects — mainly on social and economic lines. Mirza Asadu'llah says he will write out the main ideas for me.
Later 'Abdu'l-Bahá walked up the grounds and sat down on the grass near some trees. There we spoke of Royall. He said, "He flew away from me, but I was very pleased with him." I asked how He could be pleased when Royall had behaved so badly, and He answered that He judged from what was within, not by externals — that such people as Royall are pure, clear sighted, inspirational, even prophetic — that I must not be troubled, all are in God's Hands — that there is a wisdom in this experience. He said that Royall must be with one in whom he has confidence and for whom he feels friendship. He seemed to think Dr. Gehring was [not?] the right person for him to be with. He said Mt. Carmel would be an excellent place for the rest of us to spend next winter. May this come about! Shortly after having some coffee He said good bye, and with Mirza Sohrab, walked down the hill to the other house.
On returning from a little tea at Miss Carey's I stopped to see 'Abdu'l-Bahá, taking the book in which we tried to get the names written of those who visited Him in Washington, hoping to use it here with better success. I handed Him the letter from Miss Mary Coleman, and I asked for a message to send Ghodsea Ashraf at the hospital. There he talked most delightfully and then had Dr. Fareed translate for me a story which Mirza Ali-Akbar had told Him that afternoon.