Stories about 'Abdu'l-Bahá
'Abdu'l-Bahá's greatest wish for New York believers: That they "…become the cause of the enlightenment of the world of man."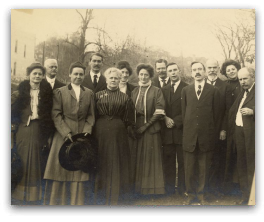 After granting private interviews to some of the friends, the Master came downstairs to the gathering. Among His statements were these words:
The most blessed moments of my life are those which I spend in the company of the friends of God. These are the best times. Therefore, I am extremely happy to be with you now. Praise be to God that your faces are illumined, your hearts and souls are rejoicing and all are turned toward the Abha Kingdom. This is the utmost happiness for me.

I pray to the threshold of Bahá'u'lláh that He may grant all of you eternal happiness, honor you in His Kingdom and bestow upon you everlasting life. Thus, the friends of New York may be freed from all limitations and become the cause of the enlightenment of the world of man. This is my greatest wish and Bahá'u'lláh will assuredly assist you.