Stories about 'Abdu'l-Bahá
'Abdu'l-Bahá left Dublin, New Hampshire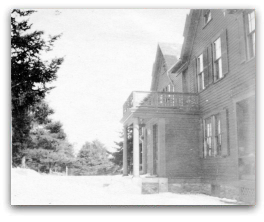 I was up very early, but before I was dressed Mirza Sohrab came over to see Mrs. Meredith about some matter of business. I told him from my window that Jeffrey Boy and I would soon be over to see the Master. He sent for us to come to His room, where He gave us both some tea. I brought Him the double black shawl of my Mother's to use always, if He will, when it is cold, in motor or carriage. It can be a protection for ears, throat, and chest. We took for the journey a basket of fruit and some English stick candy. I told Him I was not going to be unhappy, for I should find Him in my heart, and He said that was the right way.
When He came down He took me into the square hall and said through Dr. Fareed that if I would be wise, kind and _____ in my association with ______ all would come as I wish. The farewell was a quick one and He was out of my sight, but the blessing of this Visit remains with us.
Dr. Fareed, Mirza Ali Akbar, and Mirza Sohrab and Mr. Lunt went with him to Green Acre, and on the afternoon train all the others are to go. Jeffrey and I went down to see them about twelve, and they were expecting to come to us. They all expressed great appreciation of the visit in Day-Spring at Dublin. By the evening mail came a card from Mirza Sohrab saying they were just leaving Nashua, New Hampshire where 'Abdu'l-Bahá had had a rest at a hotel.