Stories about 'Abdu'l-Bahá
'Abdu'l-Bahá entertained daily visitors and participated in activities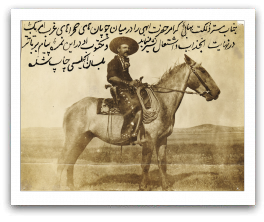 Mrs. Boyle of Washington was with 'Abdu'l-Bahá this morning. He drove here with His guest Mrs. Champney and the child of the other guests, Mr. and Mrs. Allston. This was about 4:00 PM. He went at once to the drawing room to rest, I arranging the silk cushions for Him on the long sofa near the door. Mrs. Champney was with me for some time in the "bird cage" when 'Abdu'l-Bahá joined us. Then we walked to the play house where He watched the children slide down the sliding board, and later seesaw.
Today Miss Cabot came from a distance bringing several people — Mr. Lamont and a missionary from China were here. Mrs. MacVeagh, Mrs. Pumpelly, Miss Rose Lamb, Daisy Smythe, Mildred Blackwell, Eleanor Cabot, Doris Russell, Arthur Hutchinson, and Mr. John Osborne Sumner among the others. I tried to take down the English, but it was quite hopeless. I could not keep up. I wish we had had a stenographer. It was very beautiful. Again He was asked to give proofs of Immortality, and He spoke of true brotherhood.
Later, in the dining room He answered questions of the missionary. Mrs. MacVeagh, Mr. Sumner and Arthur Hutchinson were also with Him in the dining room. About 7:00 PM, He with Mrs. Champney and Mrs. Allston and her little girl drove to the hotel.
Jeffrey Boy was again in His arms this afternoon. At dinner He said: "I want Max [Jeffrey's pet pony that pulled a small cart] to have some honor, the horses have had it all. Won't 'Abdu'l-Bahá drive some time with Max in the cart?"
A Quaker lady said to me, "He was speaking from the Spirit this afternoon."