Stories about 'Abdu'l-Bahá
'Abdu'l-Bahá elucidates on the theme of the equality of men and women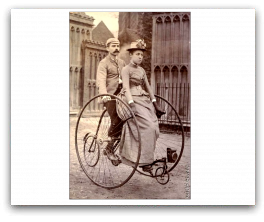 Turning towards the ladies He ['Abdu'l-Bahá] said with a smile:
I have said in America and Europe that there is only the question of votes in which women have been held back and claim equality with men. In California they even have this right. In all other respects it is men who must demand equality of rights. How many men in Europe and America work from morning until evening and whatever they save is spent on adornments and jewelry and colorful clothes and the latest fashions for their wives who spend their time in pleasure and enjoyment? In reality, these poor men are servants of their wives.

Once a respectable gentleman came with his wife to see me. A little dust had settled on the wife's shoes. She instantly asked her husband to clean them. As the poor man was cleaning her shoes he glanced at me. I said, 'Madam! Do you also clean your husband's shoes?' She replied that she cleaned his clothes. I said, 'No, that is not equality. You, too, must clean his shoes.' Now then, it would be better if you occasionally stand up for the rights of men.

One time an American woman had gone on a long trip to Europe, all in great comfort, while her poor husband was back in America, working hard and sending his earnings to her. This is the case with most of the wealthy and middle classes of the West, whereas there must be equality. A condition must be realized in which the man and woman sacrifice their rights for each other, serve each other with heart and soul and not through force and violence. This condition cannot be realized except through the power of faith. Hearts must be attracted to the divine fragrances so that each one prefers the other to himself and does not consider himself above the other.

A Parsi Bahá'í came to 'Akka to ask me to make honorable mention of his deceased wife. He was lamenting piteously saying, 'That woman worked hard for forty years in my home but as I had no wealth she never had any comfort.' To put it briefly, spiritual susceptibilities must reach this stage, they must become heavenly. Physical susceptibilities are of an animal nature and it is heavenly enlightenment which is worthy of man.
Such detailed explanations were given daily. They were so numerous that if collected in a book, it would be a volume of immense size.