'Abdu'l-Bahá's travels
Wilmette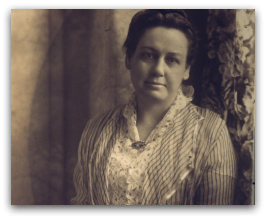 Not long after the first World's Parliament of Religions introduced Americans to the Bahá'í Faith at the 1893 World's Columbian Exposition in Chicago, the Faith took hold and gradually gained momentum in the United States.
Interest was particularly strong in the Chicago area, where Corinne True, one of the first American Bahá'ís, rallied the support of the more than 1,000 Bahá'ís throughout the country at the time to have the first Bahá'í House of Worship in North America built in the Midwest.
Ms. True came to the Faith after losing two children to illness. Struggling to maintain her faith in God, she explored various religions. When she discovered the Bahá'í Faith in 1899, she embraced it almost immediately.
'Abdu'l-Bahá established a regular correspondence with Ms. True. In 1907 she visited Him in Akka, Palestine, to deliver a scroll containing the signatures of more than 1,000 American Bahá'ís who pledged to support the construction of a Bahá'í House of Worship in the United States, specifically in the Chicago area.
During one of their talks, 'Abdu'l-Bahá told Ms. True He would like the temple to be built away from the business district and near the lakeshore. He showed her His plan for a building with nine sides surrounded by gardens, walkways and fountains.
Ms. True told Him she had explored areas just north and south of Chicago. She was particularly excited about several locations in Evanston and Wilmette, just north of Chicago. She felt one site, on a bluff in Wilmette overlooking Lake Michigan, was the "chosen place."
The delegates at a Bahá'í convention held in 1907 thought so too. The Bahá'ís purchased the land and started gathering at the site, even before ground was broken, for prayer meetings.
When 'Abdu'l-Bahá visited the United States in 1912 He laid the cornerstone for the temple at the Wilmette site. He said His father, Bahá'u'lláh, Founder of the Bahá'í Faith, "…commanded that a place of worship be built for all the religionists of the world; that all religions, races and sects may come together within its universal shelter; that the proclamation of the oneness of mankind shall go forth from its open courts of holiness…"
And in 1953, the House of Worship for the North American Continent opened its doors and continues to be a place where "all religions, races and sects may come together within its universal shelter."