'Abdu'l-Bahá's travels
Philadelphia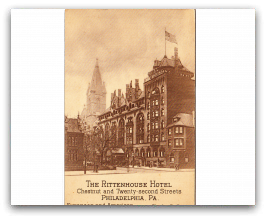 'Abdu'l-Bahá arrived in Philadelphia at 6:00 p.m. on Saturday, June 8 and went straight to the Hotel Rittenhouse. On Sunday, June 9, He drove to 15th Street and Girard Avenue, where the Unitarian Church was located, and spoke to the congregation about some of the major teachings of Bahá'u'lláh.
In the afternoon He received visitors, including reporters, who came to His hotel rooms. That evening He spoke before a congregation of 2,500 in the Baptist Temple, at Broad and Berks streets. In His lengthy address He elaborated on nine of the principles of the Bahá'í Faith.
At 9:30 a.m., Monday, June 10, He addressed a group of fifty people at the home of Jesse Revell. Until His train left at 3:00p.m. for New York, He conducted interviews at the Revells' and at the Hotel Rittenhouse.