'Abdu'l-Bahá's travels
Lincoln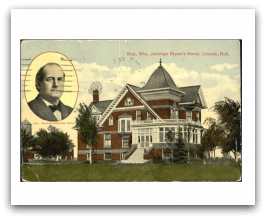 The purpose of 'Abdu'l-Bahá's stop in Nebraska was to visit William Jennings Bryan, the future US Secretary of State. Bryan had visited 'Abdu'l-Bahá in 'Akka in 1906. He had tried to make a second visit, getting as far as Haifa, but was unable to see Him due to the activities of 'Abdu'l-Bahá's enemies. Now 'Abdu'l-Bahá was attempting to return his visit.
'Abdu'l-Bahá arrived in Lincoln at 3 o'clock in the morning. At a more appropriate hour, the party telephoned the Bryan home but found that Mr. Bryan was off electioneering for Woodrow Wilson. Mary Bryan and her daughter, Ruth, invited 'Abdu'l-Bahá to visit nevertheless and He did so. Mrs. Bryan hurried out to meet 'Abdu'l-Bahá and both she and her daughter expressed their great joy at His visit. Mrs. Bryan made tea for all and gave them a tour of her home. Over tea, 'Abdu'l-Bahá spoke to Mrs. Bryan about her husband and His own work.
Before leaving, 'Abdu'l-Bahá signed a guest book and, in His own hand, wrote a prayer for assistance when Mrs. Bryan asked for prayers for her husband.
On arriving back at the Hotel they were met by a group of Arabs who had read about His arrival in the newspaper. 'Abdu'l-Bahá expressed happiness that His 12-hour visit had become the cause of spreading the teachings of God.