'Abdu'l-Bahá's travels
Cincinnati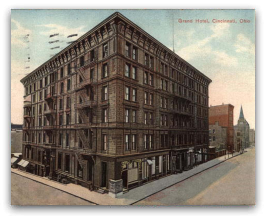 Before leaving Chicago on November 4, 'Abdu'l-Bahá telegraphed the Bahá'ís of Cincinnati, telling them of His coming. He specifically told them that He would only be there for one night in order to visit the believers. When He arrived He was met by the Bahá'ís , who took Him to the Grand Hotel where 50 of the friends were waiting. 'Abdu'l-Bahá was delighted with the gathering and sat at the head of the table for the banquet. Forty of those present chose to stay at the hotel that night so as not to miss a minute of His precious visit.
The next morning, November 5, 'Abdu'l-Bahá had planned to leave early, but the many seekers and Bahá'ís kept Him there until noon. He told a group at the Grand Hotel that He had come "to associate here with those who are the standard-bearers of international conciliation and agreement."
The next day the Cincinnati Inquirer reported that "Dr. 'Abdu'l-Bahá" had spoken.